Ehsaas Undergraduate Scholarship 2021-22
The government of Pakistan has launched the country's largest undergraduate Scholarship program Ehsaas Undergraduate scholarship in 2019. Under the Ehsaas undergraduate scholarship program, 200,000 scholarships are to be awarded to deserving students in four years. 50% quota is reserved for female students. Ehsaas scholarship is a fully-funded program, which not only covers tuition fees but a monthly stipend will also be provided to the scholars.
Main Features of Ehsaas Undergraduate Scholarship 2021-22
50,000 Scholarships per annum
200,0000 undergraduate scholarships in 4 years
50% of seats reserved for Girls
Full tuition fee
4000 Monthly Stipend
Special Preference to disabled and students belonging to underprivileged areas
Eligibility Criteria for Ehsaas Undergraduate Scholarship program 2021-22
Deserving students from low-income families
Undergraduate students enrolled in affiliated public sector universities are eligible to apply
Only those students are eligible who got admission on a merit basis in public sector respective universities
Students who got admission on self-finance / self-support program are not eligible to apply for the scholarship
Students availing of any other scholarship or grant from any source are not eligible to apply
Students already availing of any other scholarship or grant from any other source are ineligible to apply
This program is only for regular students. Distant learning students are ineligible
Ineligibility Conditions:
Availing any other scholarship or continuous grant
Enrolled in distant learning programs and affiliated colleges (both public/private )
Secured admission on self-sustain/ self-support/ self-finance basis, or in evening programs with higher fee structures
Two years associate degree programs and the nomenclature of BA/BSc programs are excluded
Ehsaas Scholarship program will offer need-based scholarships to the students of undergraduate degree programs.
How to Apply for Ehsaas Undergraduate Scholarship 2021-22
Eligible candidates can apply online at http://ehsaas.hec.gov.pk/
The complete application form can be submitted to the respective university's financial aid office
Do not submit the application form directly to HEC
Last Date for Ehsaas Undergraduate Scholarship 2021-22
The deadline for Ehsaas Undergraduate Scholarship 2021-22 is 30 November 2021.
SUPPORTING DOCUMENTS
After submission of the online application form of Ehsaas Undergraduate Scholarship Project , the applicant is required to take printout of the application form and attach following supporting documents:
| | |
| --- | --- |
| S.No | Supporting Documents |
| 1 | Copy of applicant CNIC / B. Form |
| 2 | Copy of CNIC (Father, Mother/ Guardian) |
| 3 | Salary Slip / Income Certificate (Father/Guardian, Mother) |
| 4 | If father is Labourer on daily wage / shopkeeper / private job, then attach undertaking of Income Certificate on minimum amount of stamp paper of Rs. 50/- |
| 5 | Copies of last Six Month Utility Bills (Electricity, Gas, Telephone, Water) – (If applicable) |
| 6 | Copy of Rent agreement in case of Rented House |
| 7 | Copies of Last Fee Receipts of Applicant and Siblings (If applicable) |
| 8 | Copies of Medical bills/ expenditure related documents (if applicable) |
| 9 | 01 Passport size Photograph of Applicant |
| 10 | 01 Picture of House from outside Front |
Important Note: The hard copy of the application form along with the supporting documents will be submitted to the Student Financial Aid Office of the university only.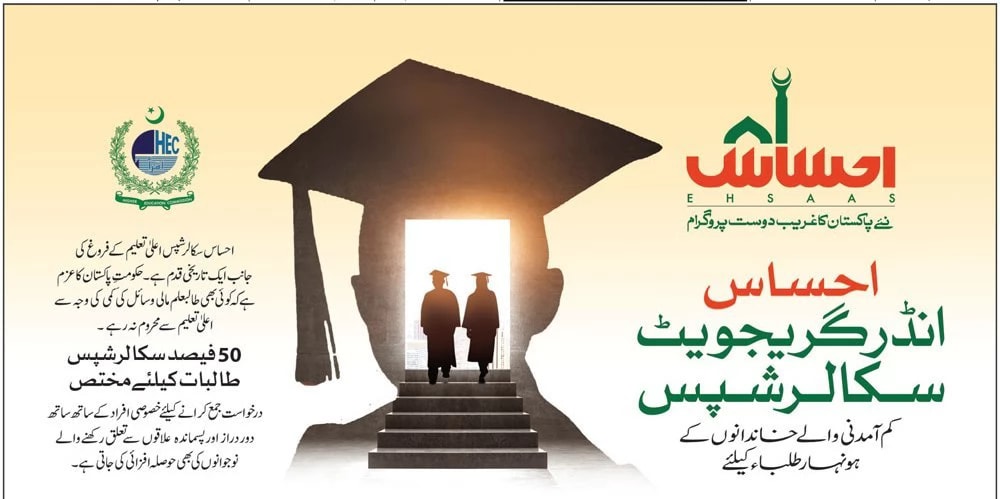 اگر آپ درج بالا اسکالرشپ میں اپلائی کرنا نہیں جانتے ہیں یا کوئی مسئلہ پیش آرہا ہے تو نیچے دیئے گئے ویٹس ایپ نمبر پر رابطہ کریں۔
صرف ویٹس ایپ
03002693760