Field Monitor Jobs in NGO Balochistan 2021
Field Monitor Jobs in NGO Balochistan 2021 latest jobs in Balochistan. In these Vacancies, interested candidates of Balochistan Local/Domicile can apply for their vacant post through the procedure defined in the advertisement below and can get these jobs in Balochistan 2021 after the complete recruitment process.
Those candidates who are interested in these jobs in NGO Balochistan and completed all education and physical eligibility criteria can read the full details in the advertisement below before applying for any post.
| | |
| --- | --- |
| Job Location | Balochistan |
| Department Name | Non-Govt Organization NGO |
| Published Date | 28-09-2021 |
| LAST DATE | 12-10-2021 |
| Total Vacancies | 400 |
Latest Jobs in NGO Balochistan 2021 | IMPORTANT LINKS
Online Apply
No Method
Official Website
No
Download
CV
Advertisement
View

DOWNLOAD
Click here to Join Balochistan Jobs Whatsapp Group
The details are mentioned in the advertisement below
آپ سب سے گزارش ہے کہ یہ اشتہار ممکنہ طور پر فیک ہے۔ برائے مہربانی ان سے بچیں، یہ صرف پیسے بٹورنے کے چکر میں ہیں۔
لہذا ہوشیار رہیں اور اپنا فیصلہ سوچ سمجھ کر کریں اور اس پوسٹ کو شیئر کریں تاکہ لوگوں کو اس کے بارے میں زیادہ سے زیادہ پتہ چلے۔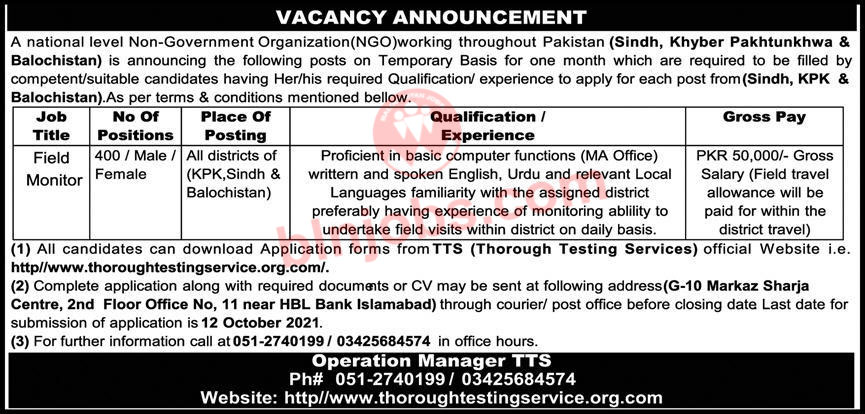 Last Date: 12-10-2021
⇒Browse All Jobs in Balochistan  Click Here
Some Helpful Links for You!