Join Pak Army PMA Long Course 149 Jobs – Online Registration
Join Pak Army PMA Long Course 149 Jobs latest jobs in Balochistan. In these Vacancies, interested candidates of Balochistan Local/Domicile can apply for their vacant post through the procedure defined in the advertisement below and can get these jobs in Balochistan 2021 after the complete recruitment process.
Those candidates who are interested in these jobs in Pak Army and completed all education and physical eligibility criteria can read the full details in the advertisement below before applying for any post.
| | |
| --- | --- |
| Job Location | Pakistan |
| Department Name | Pakistan Army |
| Published Date | 02-10-2021 |
| LAST DATE | 06-11-2021 |
| Total Vacancies | Multiples |
Latest Jobs in Pak Army PMA Long Course 149 | IMPORTANT LINKS
| | |
| --- | --- |
| Online Apply | Click Here |
| Official Website | pakarmy.gov.pk |
| Download Form | Not required |
| Advertisement | View |
Latest Posts in Join Pak Army PMA Long Course 149 Jobs Online Registration 2021
Gender
Male
Martial Status
Unmarried (married serving personnel of the Armed Forces over 20 years of age are eligible).
Qualification
Intermediate or Equivalent/ Graduate 2 years/ Graduate 4 years
Physical Standards
Minimum Height
5′ – 4″ (162.5 cm)
Weight
As per Body Mass Index BMI
Nationality
Citizens of Pakistan and domicile holders of Azad Kashmir/ Gilgit-Baltistan. Upon final selection, candidates with dual nationality will have to surrender nationalities other than Pakistani.
Training at Pakistan Military Academy (PMA)
2 Years
Qualification/Age
in Join Pak Army PMA Long Course 149 Jobs Online Registration 2021
Education
Age
(As on May 01
2022)
Relaxation
(in Age)
Intermediate or Equivalent
17-22 Years
Relaxable for three
months both in upper
and lower age limits
Graduates
(2 years graduation)
and Serving Pakistan Navy/
Pakistan Air Force Personnel
17-23 Years
Relaxable for three
months both in upper
and lower age limits
Graduates with 4 years
graduation programme
(BS/ BA-(Hon)/ BBA /BPA)
17-24 Years
No age relaxation
Serving Army Soldiers
17-25 Years
No age relaxation
Academic Qualification
Marks – FA/ FSc/ Equivalent:
1. Minimum 60 % marks in FA/FSc and equivalent.
2. Candidates who secure 60% mks or above in BA/ BSc/ BA/ BSc (Hons) and BBA/ BPA, with 50% marks in FA/ FSc are eligible for Pakistan Military Academy (PMA) Long Course.
3. 55% marks for the candidates from specified areas with domicile. Areas including Balolchistan, FATA, Gilgit-Baltistan, District Neelum Azad Jammu Kashmir, District Kohistan, Chitral, Dir, Tehsil BalaKot (Kaghan, Naran) of District Mansehra in KPK, Tharparker and Tehsil UmerKot in Sind, District Rajanpur, Area of Cholistan Desert, Drawar Fort, Salamsar, Mojgarh and Dingarh of Punjab. Besides being domicile holder, the candidates must have been actually studying in the same areas.
Serving Army Soldiers:
50% marks in FA/FSc and equivalent.
Hope Certificate:
Candidates who have passed Part-I of Intermediate Examination with minimum 60% marks and appeared/ are appearing in Part II/ Final Examination can also apply on "Hope Certificate" by Head of the institutions.
Verification of Marks Sheet/ Certificate:
Candidates not issued with certificates or in possession of duplicate/revised mark sheets/certificates of Matric/ Intermediate/ BA/ BSc must get a Verification Certificate signed by Secretary/ Controller Examination of concerned Board/University.
'A' level candidates applying in Pakistan with aggregate 60% marks are eligible without seeking equivalence certificate as calculated by IBCC. However, all the candidates who have passed 'A' level and equivalent examination from abroad or have passed from Pakistan with the result less than three Cs are required to submit equivalence certificate issued by IBCC.
In-Eligibility Conditions
in Join Pak Army PMA Long Course 149 Jobs 2021
1. Twice rejected by Inter Service Selection Board (ISSB).
2. Twice screened out by Inter Service Selection Board (ISSB).
3. Tested within four months (120 days) gap of previous appearance in Inter Service Selection Board (ISSB) except waiver granted by the competent authority. However, bar of 120 days will not be applicable to candidates appearing in General Headquarters (GHQ)/ Naval Headquarters (NHQ)/ Air Headquarters (AHQ) selection board.
4. Dismissed/removed/debarred from Government Service including Armed Forces.
5. Convicted in a Court of Law for any heinous offence (to be ascertained by the competent military authority).
6. Permanently declared UNFIT by Appeal Medical Board (PUF by AMB). Declared unfit by any Armed Forces Hospital except those cleared by Appeal Medical Board. However, Pakistan Air Force candidates who become medically unfit for flying but fit for ground branches can undergo routine Medical Examination as normal candidates if they are desirous to join other arms.
7. Declared medically unfit due to Hepatitis B & C (AMB cannot be requested).
8. Withdrawn from any bonded Armed Forces college/ institution on disciplinary grounds.
9. Withdrawn/ discharged/ resigned or purchase of commission from any Armed Forces officers Academy/ Training Institution on any ground.
10. Tempering of academic certificates/ forgery/ concealment to get undue advantage will render to applicant permanently ineligible for all types of commission in Armed Forces.
Click here to Join Balochistan Jobs Whatsapp Group
The details are mentioned in the advertisement below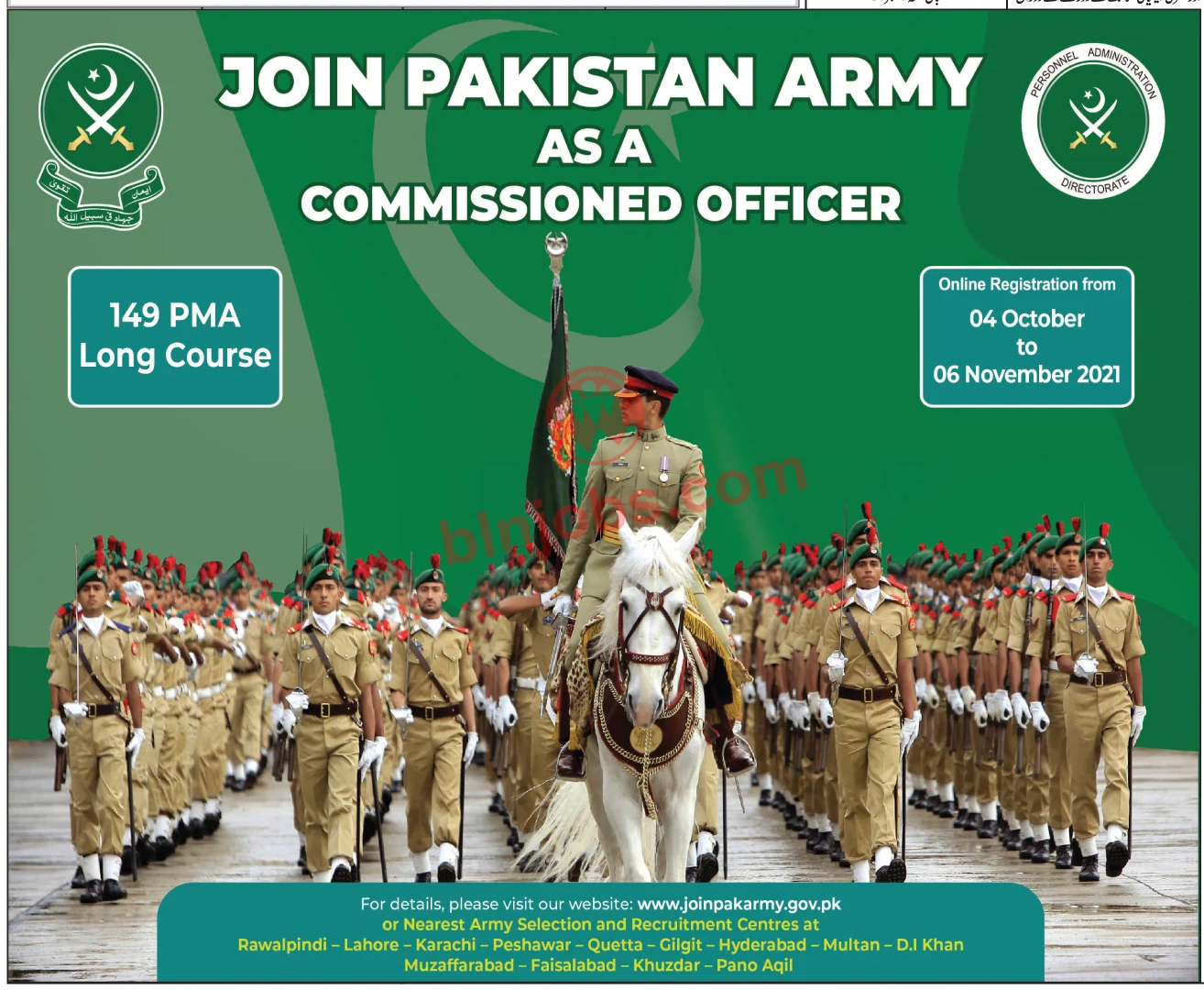 Last Date: 06-11-2021
⇒Browse All Jobs in Balochistan Click Here
Some Helpful Links for You!