BEEF Scholarship 2022 Application Form
BEEF Scholarship 2022 for the students of Balochistan for matric. Intermediate. For B. Sc.- B.A .B.S ; B. Com; BBA. LLB Who passed the exam with 60% marks in the year of 2021, 2021-22 last date for form submission is 2022 all Students can avail one scholarship at time
Government of Balochistan offering BEEF Balochistan Education Endowment Fund provides Scholarships for talented and needy male and female students of balochistan. Balochistan Education Endowment Fund announced Scholarships policy year 2022
The balochistan students can submit scholarship application forms. It's necessary to all students to attest the documents and scholarship application form before submit to officials off BEEF. The scholarship application form can also download from www.beef.org.pk and also on this page.
For more information students can contact help desk or can call on 081-9202095 or email address [email protected] or website www.beef.org.pk. Or the candidates can contact official account of Facebook and twitter.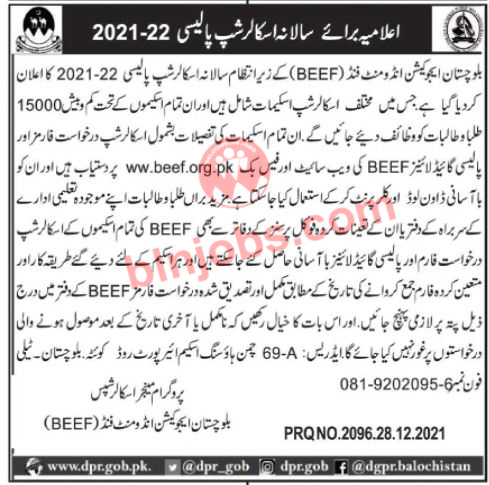 BEEF Scholarships 2022 for Students of All Levels Details:
| | |
| --- | --- |
| Scholarship Organization | Balochistan Education Endowment Fund (BEEF) |
| Area | Balochistan, Pakistan |
| Scholarship Category | Merit & Need-Based |
| Fields | All Fields |
| Scholarship Levels | All Levels (Matric/Inter/Bachelor/Masters/MPhil/MS/PhD) |
Office Contact Number of BEEF Scholarship
Contact Number as also mentioned in advertisement, and also website of BEEF. But we have also mentioned in Below.
Contact Number: +92 (81) 9204136
Website: bee.org.pk
Mail Address: [email protected]
Required Documents:
Attach the attested (attested by head of the institution) copies of the following documents with the BEEF Scholarship Form;
Candidate's CNIC/B-Form/Smart Card
Local Domicile
Academic Certificates
4 Passport Size photographs (attested)
CNIC of Father/Guardian
Certificate of Disability (if applicable)
The orphan candidates will also attach the Death Certificate of the father along with other documents
Moreover, the students belonging to minority groups will provide the Religion Certificate.
Eligibility Criteria:
The eligibility criteria to apply for the BEEF Scholarships 2022 are following;
The candidates must have at least 60% marks in their final/last exams or 3.0 CGPA out of 4.0 CGPA.
However, the candidates who want to apply for Special Quota Scholarship must have a minimum of 45% marks or 2.5 CGPA out of 4.0 CGPA.
To apply for BEEF Scholarships 2022, it is also essential that the interested candidates must be enrolled in a full-time educational institution as regular students.
The students having no good academic record are not eligible for these scholarships.
Moreover, students already availing of any other scholarship can't apply for BEEF scholarships 2022.
Also, the students must have a minimum of 75% attendance to apply for BEEF scholarships 2022.