FPSC Advertisement No 7 2023 Jobs
FPSC Advertisement No 7 2023 Jobs
The FPSC Advertisement No 7 2023 Jobs has recently announced job vacancies for Balochistan 2023 in the local newspaper. This is an exceptional opportunity for candidates of Balochistan Local Domicile who are seeking employment in the province. The department is inviting applications from the candidates of Balochistan for the following Balochistan jobs 2023. If you meet the eligibility criteria and possess the required skills, this is your chance to apply and get these jobs in Balochistan.
The recent jobs advertisement FPSC Advertisement No 7 2023 highlights various positions available for individuals in Balochistan. The advertisement provides detailed information about the job titles, required qualifications, experience, and other essential criteria. It is crucial for interested candidates to carefully review the advertisement and ensure they meet all the requirements before proceeding with the application process.
| TITLE | DETAILS |
| --- | --- |
| Job Location | Balochistan |
| Department Name | Federal Public Service Commission FPSC |
| Published Date | 07-07-2023 |
| LAST DATE | 24-07-2023 |
| Total Vacancies | Multiple |
| Watch Jobs videos | Subscribe Now |
| Jobs Whatsapp Group | Join Now |
| Join Community Group | Join Now |
Latest Jobs in FPSC Advertisement No 7 2023 |

IMPORTANT LINKS
Job Advertisement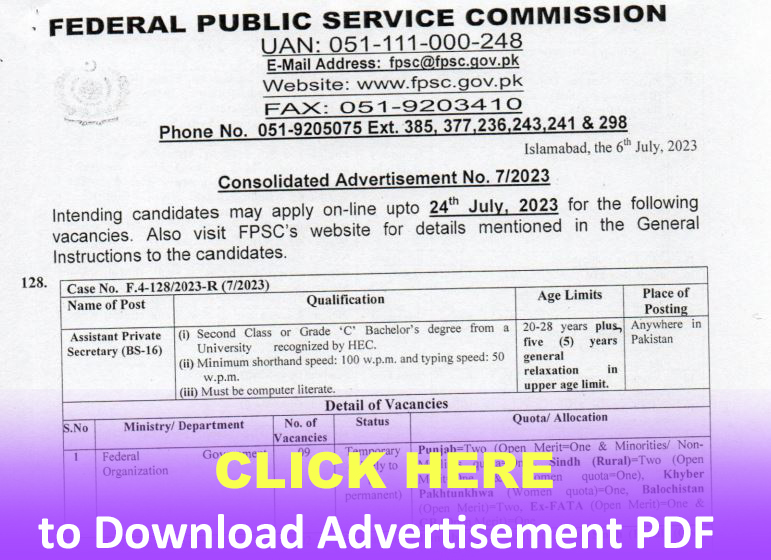 Last Date: 24-07-2023
Application Procedure:
To apply for the announced Balochistan Jobs 2023, candidates must follow the application procedure defined in the above advertisement. Here are the general steps you need to follow:
Read the Advertisement: Thoroughly read the job advertisement to understand the position requirements, eligibility criteria, and application deadline.
Prepare the Application: Gather all the necessary documents, such as the Application form or your updated resume, educational certificates, experience letters (if required), and any other relevant documents mentioned in the advertisement. Make sure to prepare your application in accordance with the specified format.
Submit the Application: Follow the instructions provided in the advertisement regarding the submission of the application. It may include either online submission or mailing the application to a specific address. Be mindful of the application deadline mentioned above. No application shall be accepted before the last date.
Application Screening: The department will carefully review all the received applications to shortlist candidates who meet the required criteria. The screening process may involve evaluating the qualifications, experience, and other essential factors mentioned in the advertisement.
Test/Interview Stage: Shortlisted candidates will be notified about the next steps, which may include written tests, interviews, or both which you can see here.
Final Selection: After completing the test/interview stage, the department will finalize the selection of candidates based on their performance and suitability for the position. Successful candidates will be informed individually, and further instructions will be provided regarding joining formalities.
The FPSC has opened its doors to job seekers for Balochistan Local Domicile. If you meet the eligibility criteria and possess the required qualifications, don't miss the chance to apply. Follow the application procedure as defined in the advertisement, and submit your application before the deadline. We wish you the best of luck in your pursuit of a rewarding career with the Department in Balochistan!
Please visit our website, Balochistan Jobs, on a daily basis to stay updated for the latest Balochistan Jobs 2023, tests and interviews, scholarships, admissions, internships, and much more in Balochistan. Additionally, follow us on social media platforms using the links provided below to receive timely updates on such information
---
Get the Latest Jobs notifications on Social Media