Girls Cadet College Quetta Jobs 2022
Girls Cadet College Quetta Jobs 2022 latest jobs in Balochistan. In these Vacancies, interested candidates of Balochistan Local/Domicile can apply for their vacant post through the procedure defined in the advertisement below and can get these jobs in Balochistan 2022 after the complete recruitment process.
Those candidates who are interested in these jobs in Girls Cadet College Quetta 2022 and completed all education and physical eligibility criteria can read the full details in the advertisement below before applying for any post.
| | |
| --- | --- |
| Job Location | Quetta |
| Department Name | Girls Cadet College Quetta |
| Published Date | 04-07-2022 |
| LAST DATE | 22-07-2022 |
| Total Vacancies | 94 |
| Watch Jobs videos | Subscribe Now |
| Jobs Whatsapp Group | Join Now |
Latest Jobs in Girls Cadet College Quetta 2022|

IMPORTANT LINKS
Online Apply

Official Website
bact.org.pk
Download Form
Click Here
Advertisement
Ad-1: View

Ad-2: View
The details are mentioned in the advertisement below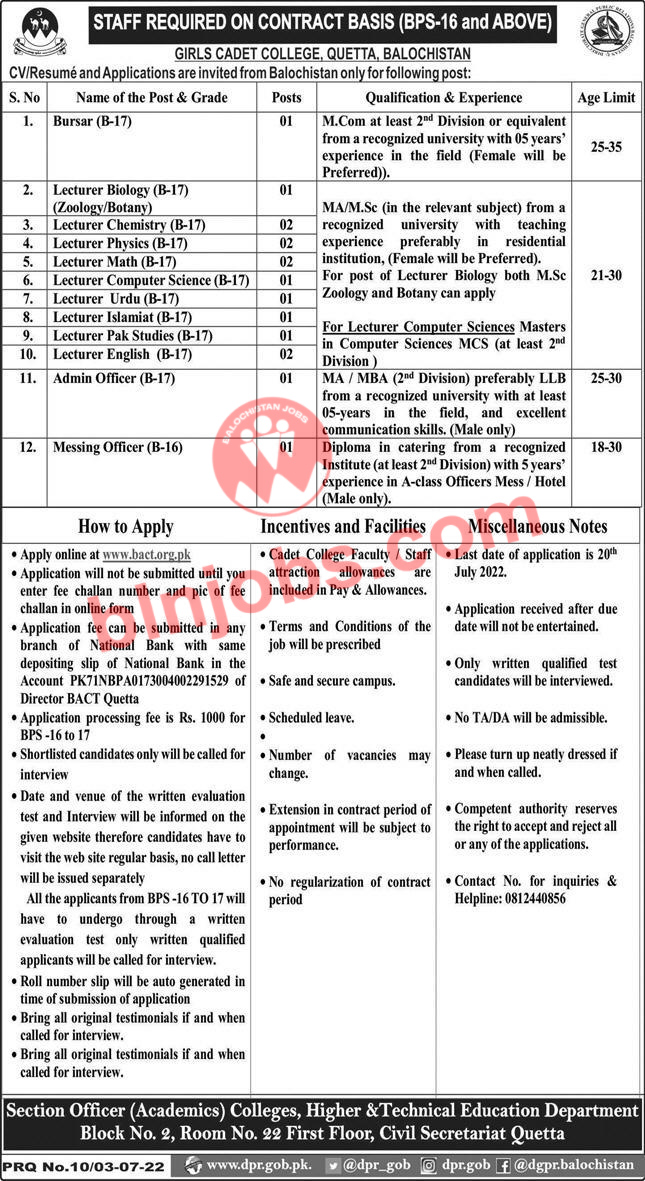 Last Date: 22-07-2022
How to Apply Online for Girls Cadet College GCC Quetta
Job Details
⇒Browse All Jobs in Balochistan Click Here
Available Vacancies in Girls Cadet College Quetta
| | | |
| --- | --- | --- |
| S.No | Name of post | Total Post |
| 1. | Bursar | 01 |
| 2. | Lecturer Biology (Zoology/Botany) | 01 |
| 3. | Lecturer Chemistry | 02 |
| 4. | Lecturer Physics | 02 |
| 5. | Lecturer Math | 02 |
| 6. | Lecturer Computer Science | 01 |
| 7. | Lecturer Urdu | 01 |
| 8. | Lecturer Islamiat | 01 |
| 9. | Lecturer Pak Studies | 01 |
| 10. | Lecturer English | 02 |
| 11. | Admin Officer | 01 |
| 12. | Messing Officer | 01 |
Advertisement No 2 Jobs in Cadet College Queta
| | | |
| --- | --- | --- |
| S.No | Name of post | Total Post |
| 1. | Stenographer | 01 |
| 2. | Senior Clerk | 01 |
| 3. | Personal Assistant | 01 |
| 4. | Computer Lab Supervisor | 01 |
| 5. | AV Lab Assistant | 01 |
| 6. | Junior Clerk | 02 |
| 7. | Cashier | 01 |
| 8. | Generator Operator | 01 |
| 9. | Martial Arts Instructor | 01 |
| 10. | Lab Assistant | 03 |
| 11. | Sports Incharge | 02 |
| 12. | Marker | 01 |
| 13. | Head Cook/ Cook | 03 |
| 14. | Storekeeper | 02 |
| 15. | Pump Operator | 01 |
| 16. | Telephone Operator | 02 |
| 17. | Driver | 04 |
| 18. | Head Mali | 01 |
| 19. | Head Bearer | 01 |
| 20. | Masalchi/ Nanbai | 03 |
| 21. | Naib Qasid | 03 |
| 22. | Bus Conductor | 04 |
| 23. | Security Guards | 12 |
| 24. | Bearers | 04 |
| 25. | Helper | 04 |
| 26. | Wing Bearer | 04 |
| 27. | Orderly | 01 |
| 28. | Butler/ Cook | 02 |
| 29. | Dishwashers | 02 |
| 30. | Waiter | 04 |
| 31. | Sweeper | 06 |
Get the Latest Jobs notifications on Social Media